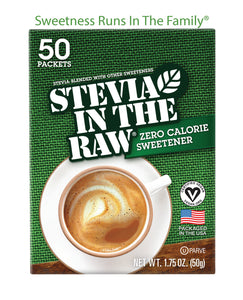 Stevia In The Raw® 50 ct Box - Case of 12 boxes
Stevia In The Raw Sweetener, 50-Count Packets are a zero calorie sweetening solution so you can enjoy the sweeter things in life.
The convenient packet makes it simple and convenient to sprinkle onto a bowl of cereal, yogurt, or fruit at home or on the go.
A 1/2 teaspoon of Stevia In The Raw is about as sweet as 1 teaspoon of traditional sugar without all the calories.  
Stevia In The Raw is kosher certified, vegan certified, and naturally gluten free.