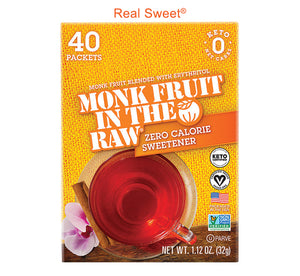 NEW Keto-Certified Monk Fruit In The Raw® - 2 Boxes (40 ct. each)
Enjoy the great taste of the Monk Fruit In The Raw you know and love in all of your Keto recipes and beverages.  Made with monk fruit extract and erythritol.
Monk Fruit In The Raw Sweetener is a delicious, zero calorie sweetener made with the extract from the vine-ripened luo han guo fruit native to Asia. 
This sweetener is Keto-certified, kosher certified, vegan certified, and naturally gluten free; making it the perfect substitute to sugar for the health conscious consumer.  
This lightly sweet sugar substitute can be used by anyone looking to start a healthier lifestyle by reducing calories and sugar in their diet.