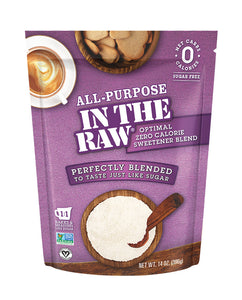 All-Purpose In The Raw® Optimal Zero Calorie Sweetener Blend 14oz – CASE (8 Bags)
Perfectly blended to taste just like sugar without an aftertaste. This optimal sweetener blend looks, tastes, crunches and bakes just like sugar.

This all natural, All-purpose blend is perfect to use anywhere you'd normally use sugar! Add it to your coffee, tea, smoothie or cocktail. Sprinkle it on fruit, oatmeal or yogurt. Great sugar substitute in your favorite baking or cooking recipe.

Zero Calories, Zero Net Carbs, Sugar Free, Plant based sweetener that is Certified Non-GMO, Vegan, Kosher and Keto.

Made with four ingredients derived from nature, Stevia and Monk Fruit so that it is sweet like sugar. Allulose to taste and brown more like sugar, and Erythritol to look and crunch like sugar.

Sweetness of sugar with an easy 1:1 conversion for all occasions - baking, cooking or drinks.