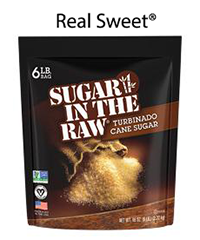 Sugar In The Raw® - 2 Large Bulk Bags (6 lbs. each)
Sugar In The Raw Turbinado Cane Sugar is made from the first pressing of natural sugarcane.
The sugar crystals are never bleached and thus retain their distinctive golden hue and  delicious molasses flavor.
Sugar In The Raw is the #1 brand of turbinado cane sugar on the market and is non-GMO project verified, kosher certified, vegan certified, and naturally gluten-free.