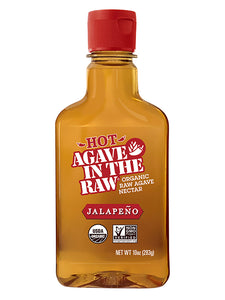 Organic Hot Agave In The Raw® - (2 Bottles)
NEW! Sweet and Spicy Organic Raw Agave Sweetener: Our Hot Agave blends the sweetness of agave nectar with the heat of jalapeno peppers and chili, creating a unique taste that will elevate any dish.
100% Raw Blue Agave Nectar: Our Hot Agave is made with the highest quality organic raw blue agave nectar, ensuring a pure and delicious flavor.
Certified Organic: Our Hot Agave is made with certified organic blue agave, ensuring that it is free from artificial ingredients or added flavors.
For the consumer that loves a bit of spice, but isn't all in on the hot scale, this is the perfect entry exploring spicy foods.
Try it in your cocktails and mocktails, drizzled on pizza, fried chicken, barbecue, ice cream, or blended into sauces, marinades, dressings and in your spicy margarita.